Andy reminded me that it's been two weeks since my last blog post…  I haven't taken the time to edit photos, and we all know that blog posts with photos are more interesting.  But I do have a rant today.
I need a new swimsuit.  As we all know, I had two kids in 17 months.  That can kind of take a toll on your body.  Small, big, small, bigger, smaller, smaller.  That's how I feel everything went over the past three years.  Low and behold, I am not a size zero who can wear triangle bikinis with ties anymore.  Why not?
1. Triangle bikini tops are not supportive enough for post-baby bodies like mine.
2. I used to have a belly button piercing and it's not so attractive anymore.  Nor is my stomach area in general.
3. My kids cannot swim, so if I'm in a pool I'll most likely be holding one of them.  I need a suit that stays in place!
I only went swimming once last summer and I decided I could get away with wearing my maternity swimsuit.  The instant I hit the water, it ballooned to the size of a parachute and tried to drown me!  Needless to say, it is now packed away in my maternity clothes bin.
I went to my favorite swim site, J.Crew.  I'm looking for a tankini, something youngish because I'm not old and something flattering to my size 4 body.  This is what I found.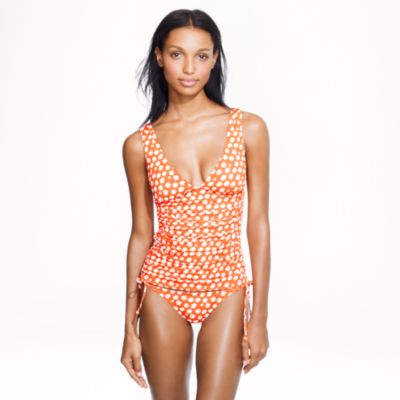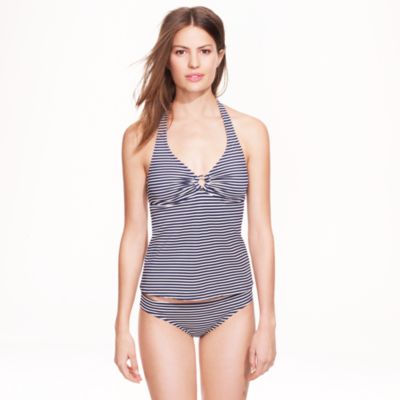 What the heck?! These are not real people! Not when you photoshop half of their legs away. And probably their arms too. I think the second model may have lost part of an ear.  Her wrist looks so fragile, it might fracture at any moment.
What is the point of making these photo corrections?  "Buy this swimsuit and you too can look like this?" Because that's absolutely not an attainable goal for any woman I know!  I don't understand why they feel the need to make a model, who is crazy skinny in the first place, appear even thinner.
I like online retailers that allow reviewers to upload their own pictures of clothes, like Modcloth.  That way you can see a real person wearing them.  Real people like me, the consumer.  I won't be buying a J.Crew swimsuit because I'm pretty sure they won't send one that magically makes me appear 5'10 and size 0.  Besides, I'm proud of the muscles in my arms from toting a 27 lb toddler around all the time!  No need to photoshop that out.