I'm always perusing kid's clothing web sites to see the latest styles.  There are so many options for girls!  Not so many for boys.  These are a few things I have my eye on for Delaney.
Valentine's Day is next week!  I might have to run to Old Navy and pick this up.  But I'd also need to get a cardigan.  It would be good for church though, and should fit through summer if I get a 2T.
Nautical seems to be very popular with the little ones this spring.  I probably wouldn't get this one because Delaney has enough long sleeved items, but it's cute.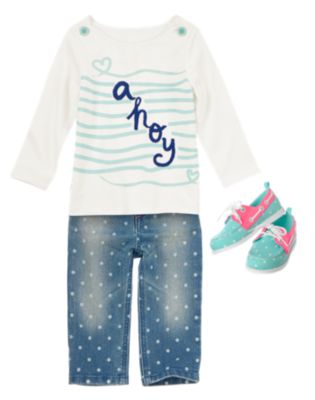 I love this swimsuit!  But there is plenty of time before I need to buy her a swim suit and I want to make sure the size I get will fit.

Old Navy – $14
I like this Hello Kitty dress from H&M, paired with black leggings.  Being sleeveless though, it wouldn't be practical until summer.